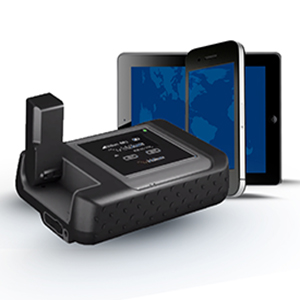 Take personal communications further
Iridium GO! provides global voice calling and text messaging solutions for your smartphone, as well as enhanced data capabilities offered through optimized apps to meet your unique needs.
No worries. No roaming charges. Just connected and in touch wherever you are, whenever you need, with the devices you rely on everyday.
Iridium GO! Fixed Installation Kit
Transform your communications with a valuable add-on that makes Iridium GO! even more versatile on land and at sea. The Iridium GO! Fixed Installation Kit can be paired with any Iridium GO! device for extended capabilities and smooth connectivity both inside and outdoors.
This kit offers affordable accessories designed specifically for marine and land applications. It extends the capability of Iridium GO! and is easy to install.
Transform your smartphone anywhere
Compatible with Apple® and Android™, Iridium GO! extends the use of your trusted smartphone and devices no matter where you are with:
Apps optimized for voice calling, SMS, email, weather monitoring, and more
A 100 foot radius Wi-Fi connection for up to five mobile devices
Small but powerful
With one of the smallest form-factors in the industry, you can comfortably take Iridium GO! anywhere you travel. Featuring a compact, portable design, the device is easy to carry, stow away in your backpack or mount for mobile applications. Iridium GO! is ruggedly engineered to support you with:
Military-grade (MIL-STD 810F) durability
Ingress Protection (IP) rating of IP65
Dust proof, shock resistant and jet-water resistant
Stable, lay-flat design
Extend your connections farther
Download the Iridium GO! app and get access to features that will keep you connected everywhere. Paired with the device, the Iridium GO! app allows you to:
Make voice calls
Send a quick GPS or check-in message
Configure your settings
Send Twitter posts
Activate Emergency SOS.