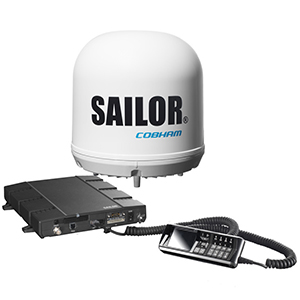 FleetBroadband 150 (FB150) is Inmarsat's entry-level addition to the FleetBroadband family. It delivers global voice, IP data up to 150kbps and SMS texting.

FB150 hardware and airtime charges are competitive, with a choice of airtime pricing packages to suit your requirements.The above-deck and below-deck units are highly compact and easy to install.

Standard IP data
Always-on IP data service up to 150kbps for office applications such as email and internet access, real-time electronic charts and weather reporting.
Satellite telephony
Access up to three additional telephone lines from a single FB150 terminal with FleetBroadband Multi-voice. Make clear phone calls to terrestrial and mobile networks, as well as other satellite terminals, anytime.
SMS
Send and receive SMS text messages to and from other FleetBroadband terminals and land-based cellular networks through your PC.
Enhanced voice services
Voicemail and other enhanced call management options are available, including caller identification, caller barring and call forwarding.
Our 505 Emergency Calling facility puts vessels directly in contact with a maritime rescue co-ordination centre (MRCC) free of charge.
For crewed vessels – merchant, workboats, fishing and large leisure craft – FleetBroadband offers low-cost calls all day, every day, with pre-pay and post-paid options.
FleetBroadband is accessible globally, except in the extreme polar regions.
FleetBroadband 150 provides a circuit-switched data connection for legacy applications such as Group 3 fax.
Phone and SMS
Email and file transfer
Internet and intranet access
Multi-voice
Safety 505
Crew welfare
Secure VPN access
Vessel routeing
Weather forecasts
Remote monitoring and maintenance
E-logs
Maritime / Port Regulations