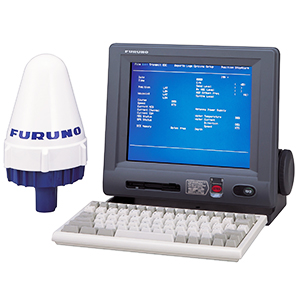 Inmarsat C provides two-way data and messaging communication services to and from virtually anywhere in the world. The low-cost terminals and antennas are small enough to be fitted to any size of ship.
Safety communications using Inmarsat C
Inmarsat C is a two-way store and forward communication system that transmits messages in data packets in ship-to-shore, shore-to-ship and ship-to-ship direction.
The equipment comprises a small omnidirectional antenna, compact transceiver (transmitter and receiver), messaging unit and, if GMDSS-compliant or with a distress function, a Dedicated Distress Button (DDB) to activate a Distress Alert.
Inmarsat Mini C terminals are the smallest models, with some incorporating the antenna and transceiver in the same above deck unit and, depending on the model, supporting the same communication services as Inmarsat C terminals.
All modern Inmarsat C and Mini C terminals have an integrated Global Navigational Satellite Services (GNSS) receiver for an automatic position update on the terminal, which is used for distress alerting (ship's position, course and speed), ship's position data reporting applications and selective reception of EGC SafetyNET messages.
Distress alerts and distress priority messages transmitted via the Inmarsat C system are routed through a Land Earth Station (LES) to a Maritime Rescue Co-ordination Centre (MRCC).