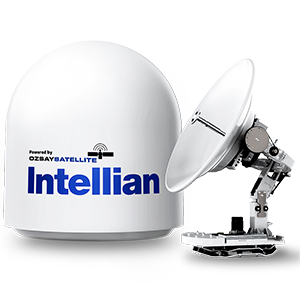 Intellian v85NX Ku/Ka-Band Convertible VSAT Antenna

Future-Proof System with Industry Leading RF Performance
The world's first Ku- to Ka-band convertible antenna, the v85NX can simply be converted from Ku- to Ka-band compatibility by changing the center-mounted RF Assembly and Feed using a conversion kit. The reflector and radome have already been frequency tuned for both satellite bands, which ensures maximum performance across both of them. Also, the v85NX is ready for future NGSO constellation as well as 2.5GHz wideband Ka-band.

Intellian's highly efficient RF design delivers the best performance compared to other 80cm class systems, enabling higher data rates and global operation. The compact 85cm antenna's smaller footprint allows installation on smaller vessels and gives them access to 1-meter designed networks. It also has several different BUC power options available up to 25W that give it a wider operational range. The v85NX is ideal for commercial ships, the oil and gas industry, and mission-critical operations where uninterrupted connectivity is required.

Simplified installation & enhanced AptusNX

Combining Tx, Rx and DC power into one coaxial cable solution with an external dome-on connection enables faster and reduced costs of installation for the v85NX. It also eliminates the need to remove the radome during installation. Users can operate AptusNX by simply plugging a laptop into the ACU, without any need to download extra software. The AptusNX presents an installation wizard with a step-by-step commissioning guide to more easily complete setup, and with enhanced diagnostic capabilities, the AptusNX can send an alert to the operator when preventative maintenance is required.
v85NX Features:
Future-Proof System
Ku-Ka convertible with dual-band optimized reflector and radome
NGSO & 2.5GHz Wideband Ka Ready

Frequency Flexibility
Standard units supplied in Ku-band configuration with the best RF performance on all major satellite networks
Convertible to Ka-band operation in as little as 10 minutes

Single Coaxial Cable
Combined Tx, Rx and DC power in one coax cable
Only one coax cable connection between antenna and ACU

Pain-free Installation
Dome-on external cable connection and no shipping bracket eliminating the need of opening the radome during installation and testing
No Balancing required after installation

AptusNX
Built-in web interface for remote management, control and updating brings tech support onboard
Intuitive configuration wizard including automated cable loss compensation, bow-offset and accurate diagnostics and modem pre-configuration

Dual Antenna system operation without an external mediator
Mediator embedded ACU supports dual antenna operation to combat onboard blockage zones without a separate mediator

Supports BUCs from 8W to 25W
Various BUC options provided 8W, 16W and 25W as standard
No need to rebalance the system after BUC conversion

Gyro-free Operation
No input required from ship's heading device
Quick setup to reduce installation time. Automated bow offset function in AptusNX

Global Satellite Library
Preinstalled database of detailed satellite data with one-touch remote update using AptusNX
Customizable satellite library when required for a specific network

Auto Beam Switching (ABS)
Supports ABS via the OpenAMIP protocol from iDirect and Comtech's ROSS Open Antenna Management (ROAM) protocol

Open Platform Compatibility
Fully compatible with all major service providers
Preconfigured modem settings provided in AptusNX

3 Years Global Warranty
Industry leading 3-year parts and a 2-year labor warranty for all antenna systems, ensuring peace of mind with your hardware investment.