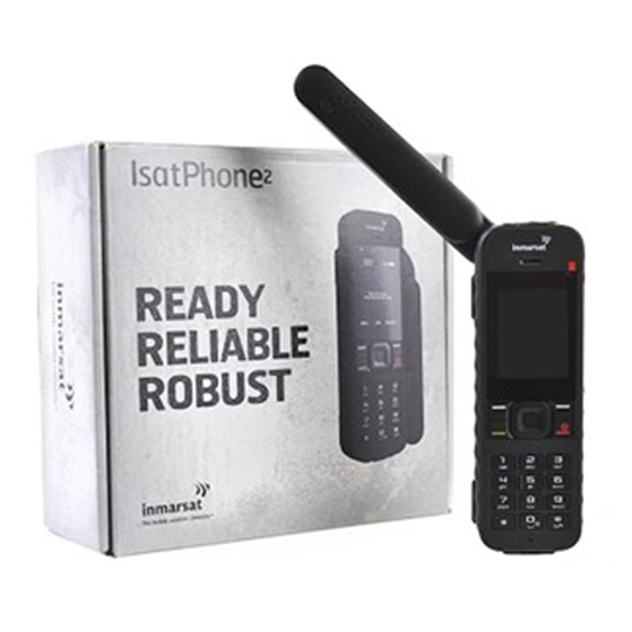 Operating on the reliable Inmarsat I-4 satellite network, IsatPhone service offers a global coverage while combining robust, easy-to-use and affordable handsets.
The IsatPhone 2 is designed to withstand the most extreme conditions. Engineered to work in just about any environment, featuring an intuitive GSM-style interface and color screen, the IsatPhone 2 handset is designed for professional users in the government, media, NGO, oil & gas, mining and construction markets.
Users benefit from quick registration, tracking and tracing capabilities and GPS enhancements. In addition, IsatPhone 2 offers a wide range of key features to stay connected.


Features:
Clear and reliable voice service
High quality voice and SMS services up to 160 characters, standard and predictive text
Calling features: Call history, caller ID, conferencing, speed dialing
Assistance button and GPS tracking
Incoming call alerts even with antenna stowed
Contact synchronization
Several security features for controlling the usage, the SIM card and the network.

Benefits:
High quality voice service
Effective data rates of up to 20 kbps
Reliable network connection: Global coverage on Inmarsat's I-4
Easy-to-use: Intuitive GSM-style interface with high visibility color screen, icon-driven menu and larger keypad
Robust handset: Dust, splash and shock-proof (IP65, IK04)
Longest battery life: Up to 8 hours of talk-time and up to 160 hours of standby time
Tracking and tracing capabilities.